Consumer Assistance Program Updates
The Bureau of Automotive Repair (BAR) continues efforts to increase awareness of the Consumer Assistance Program (CAP) through outreach, print materials, and updated website features. Here are a few key updates:
New Notice to Consumers Sign
The new Notice to Consumers (previously Notice to Motorists) sign aims to better inform consumers about CAP and includes updated information on repair cost waiver and catalytic converter theft prevention options.
BAR has distributed the signs to all licensed Smog Check stations. As required by Health and Safety Code section 44017.3(a), stations must post the sign in an area of the station that is visible and frequented by customers. Previous versions of the consumer notice sign are discontinued and should not be posted.
The new Notice to Consumers sign is available to stations in Spanish. To obtain the Spanish version, Smog Check licensees may visit their local BAR field office or contact BAR at BAROutreach@dca.ca.gov. If submitting an email request, include the station name, license number, and business address.
For more information about signage requirements, visit the Licensee Signs page at www.bar.ca.gov.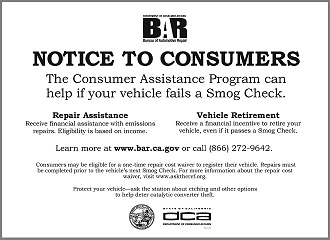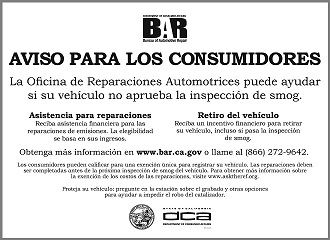 Pictured: The new Notice to Consumers sign in English and Spanish.
Rack Card
Developed as an additional resource to help educate consumers about CAP, the new CAP rack card highlights the program's repair assistance and vehicle retirement options. The two-sided English and Spanish card is distributed to consumers at DMV field offices and CAP outreach events. Licensees are encouraged to display and distribute the new rack card to customers. To obtain a supply for your station, visit your local BAR field office or contact BAROutreach@dca.ca.gov.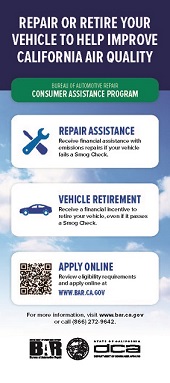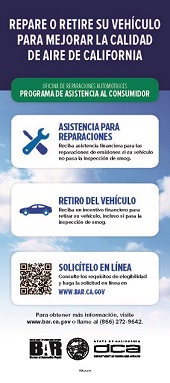 Pictured: The new Consumer Assistance Program rack card.
Online Application Enhancements
With over 80% of CAP applications submitted online, BAR continues to make changes to the application process to improve consumer interface and ease of online application functionality. Applicants can now digitally upload income verification documents rather than submitting them by mail. In addition, letters of eligibility for repair assistance now include a QR code directing applicants to participating STAR test-and-repair stations through BAR's Auto Shop Locator.
Dismantler Contracts
New, three-year contracts have been awarded to auto dismantlers throughout the state. The contracts allow dismantlers to scrap vehicles eligible for retirement through the CAP vehicle retirement option. Consumers requesting information on CAP and auto dismantler locations should be directed to the Consumer Assistance Program page at www.bar.ca.gov.