BAR Presents at Mobilize California Summit
Mobilize California Summit is a fleet modernization, alternative fuels, and workforce training event. This annual event allows industry leaders, educators, fleet representatives, and other clean transportation stakeholders to collaborate on existing and emerging clean transportation technologies, trends, and training tactics.
This year's Summit was held in Temecula on July 21, 2022, and was attended by workforce training educators from across California and alternative fuel transportation industry professionals from across the country. Mark Guess, representing the Bureau of Automotive Repair's (BAR) Technical Training Unit, gave a presentation on advanced vehicle safety technologies, including Advanced Driver Assistance Systems (ADAS), and the role they play in vehicle repairs.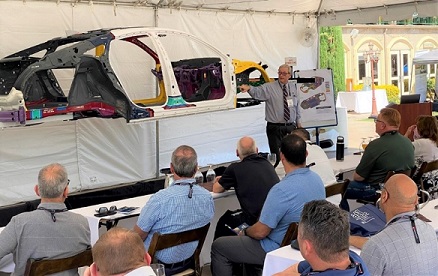 Pictured: BAR representative Mark Guess presents to conference attendees.
Since newer model vehicles are equipped with highly engineered collision management systems to protect occupants in the event of a collision, Guess pointed out that repairing a vehicle properly usually requires specialized equipment, materials, and manufacturer-specified repair procedures. He also emphasized that the technical sophistication of newer model vehicles necessitates the accuracy of repairs and that training and education to gain knowledge on these advanced technologies, safety systems, and repair procedures is essential.
Guess also gave an abbreviated overview of the weeklong Structural Damage Analysis (SDA) training course developed for BAR program representatives. Using a stripped down 2017 Honda Civic mounted on a rotisserie-like device, Guess was able to point out various steel components, internal weld points, and reinforcement structures. He emphasized that improper repair or parts replacement on a vehicle equipped with ADAS could compromise the functionality and safety of the vehicle. For example, if a front bumper equipped with ADAS cameras and sensors used for lane departure warning and automatic emergency braking must be repaired or replaced after a collision, it is imperative that manufacturer service specifications are precisely followed, including aiming and calibration of the cameras and sensors.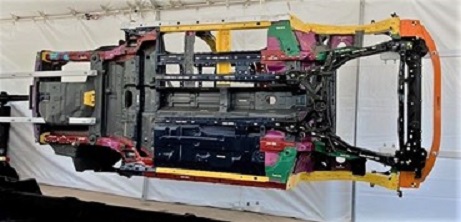 Pictured: The internal structure of a 2017 Honda Civic sedan showing the different steel ratings and weld points.

Guess concluded his presentation by noting that whether automotive repair dealers are performing vehicle technology/structural repairs or services themselves or subletting them to outside vendors, they are required to adhere to service specifications, accepted trade standards, the Automotive Repair Act, and related laws and regulations.
Visit www.mobilizesummit.com for information about upcoming Mobilize Summit events.